Accounts Payable Associate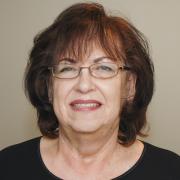 Paulette has been a critical member of the Lawn Tech family since 1984. She oversees all bookkeeping operations, including the company payroll, taxes, and expenses, as well as handling other office duties as needed.
Paulette was born and raised in Newark before relocating to Lebanon Township over 40 years ago. She enjoys playing Mahjongg, reading, knitting and spending time with her family, which includes her beloved labradoodle, Koby. Paulette is very proud to be the "back to back" champion of the Lawn Tech office football pool.