Here at Lawn Tech, we work hard to give our customers the best lawn care experience as possible.  In addition to providing exceptional service, we strive to educate our customers on ways they can keep their lawn healthy and green all season long. Check out our seasonal tips below to learn how you can maintain your turf!
What's Happening Now 
Avoid Excessive Lawn Traffic
Try to limit the amount of traffic on your lawn while it is dormant over the winter.  This includes foot traffic as well as vehicles.  Walking the same path across your lawn to get to your mailbox, or driving a vehicle or small piece of equipment over the lawn will leave dead marks in your lawn.  It compacts the soil killing the existing grass, making room for crabgrass and weeds in the spring. 
Disease
Snow mold.... appears in two varieties (pink and gray).  Snow mold is a fungus that kills grass in late winter/early spring when the snow starts to melt.  Just because your lawn has never had it, doesn't mean it can't take hold in the right conditions.  This fungal growth from snow mold can cause grass to take a little longer to green up in the spring.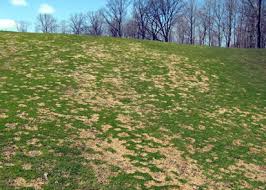 Reasons why we stay away from seeding in the spring.........
We get many requests for spring seeding.  The results of spring seeding are very poor and spotty at best. We know, with over 34 years of experience, that the results will not be up to our customers' expectations. Why?
There are three very big reasons:
1.  When you seed in the spring you cannot apply crabgrass pre- emergent in a timely fashion.  By the time seeding is completed, the window to prevent crabgrass from germinating in the summer will most likely have passed. Crabgrass pre-emergent cannot be applied to newly seeded areas until the new grass has been cut a minimum of three to four times.  By the end of June/beginning of July, the crabgrass will begin to overwhelm the new grass.
2.  New grass does not have a deep root system to start, which means it can dry out quickly.  Going into the heat of the summer, with unpredictable periods of drought, can cause damaging stress on new grass. During the summer is when crabgrass starts to take over; this is because the crabgrass pre-emergent could not be applied in the spring.  Also, new grass cannot withstand dormancy as well as established grass can during drought/heat conditions.
3.  New grass that germinates in the spring is highly susceptible to disease. Most university researchers indicate that the likelihood of disease in spring seeding is nearly 50%.
When you invest in seeding, you want to do it at the most ideal time to ensure a nice lawn.  We core aerate and overseed and slit seed hundreds of lawns every fall (last week of August through the first week of October).  The results are terrific and our customers' lawns improve nicely.