Here at Lawn Tech, we work hard to give our customers the best lawn care experience as possible. In addition to providing exceptional service, we strive to educate our customers on ways they can keep their lawn healthy and green all season long. Check out our seasonal tips below to learn how you can maintain your turf!
What's Happening Now
This year your lawn's growing environment has not been ideal.  It has been put under some extreme stress.  The year was started with a snow covered March which then moved into an extremely wet spring.  Then lawns began to go dormant the last week of June through the first two weeks of July when temperatures hit 90+ degrees with no rain in site.  They were stressed and still most were mowed which created more stress and areas of disease.  We finally got the rain starting mid July and that helped lawns bounce back.  However there are areas that still show the stress/disease.    
We are now applying FERTILIZER and spraying broadleaf weeds where needed.  Broadleaf weed control will help control broadleaf weeds present in the lawn at the time of the application.  Weeds germinate every day and should be tolerated between visits.  Broadleaf weeds that germinate after this application will be taken care of with the next service.  Broadleaf weed control does not prevent broadleaf weeds from coming up later.  Broadleaf weed control does not kill japanese stiltgrass, crabgrass or nutsedge.   
We are also applying surface feeding insect control.  This application will help control surface feeding insects such as chinchbugs.  Chinchbugs feed on the grass plant chewing it down to stubs.  The damage mimics drought stress.  This application also targets ticks and fleas.
Nutsedge is EXTREMELY PREVALENT this summer due to so much rain coupled with warm soil temperatures.  Yellow nutsedge is a warm season perennial plant.  The shallow root system produces many nut-like tubers, which are underground food storage organs.  Each of these tubers can germinate and produce new plants. Each new plant can also produce rhizomes which can give rise to additional new plants.  During the summer, germination of tubers and seed produced by plants from previous years are capable of producing new yellow nutsedge plants. Because of the seed and tubers that remain in the soil, repeat infestations in subsequent years should be anticipated.  Unlike most lawn weeds, yellow nutsedge is not controlled with applications of traditional annual grasssy weed or broadleaf weed control products.  This "weed" is a member of the sedge family and requires the use of very specific herbicides to achieve satisfactory control.  A nutsedge spray will only kill nutsedge that is up at the time of the application. That is why we recommend waiting until most of the nutsedge has germinatied before a control product is applied.  We have found with continued nutsedge sprays over a few years, we can get a handle on it.  Unfortunately, there is no pre emergence for nutsedge.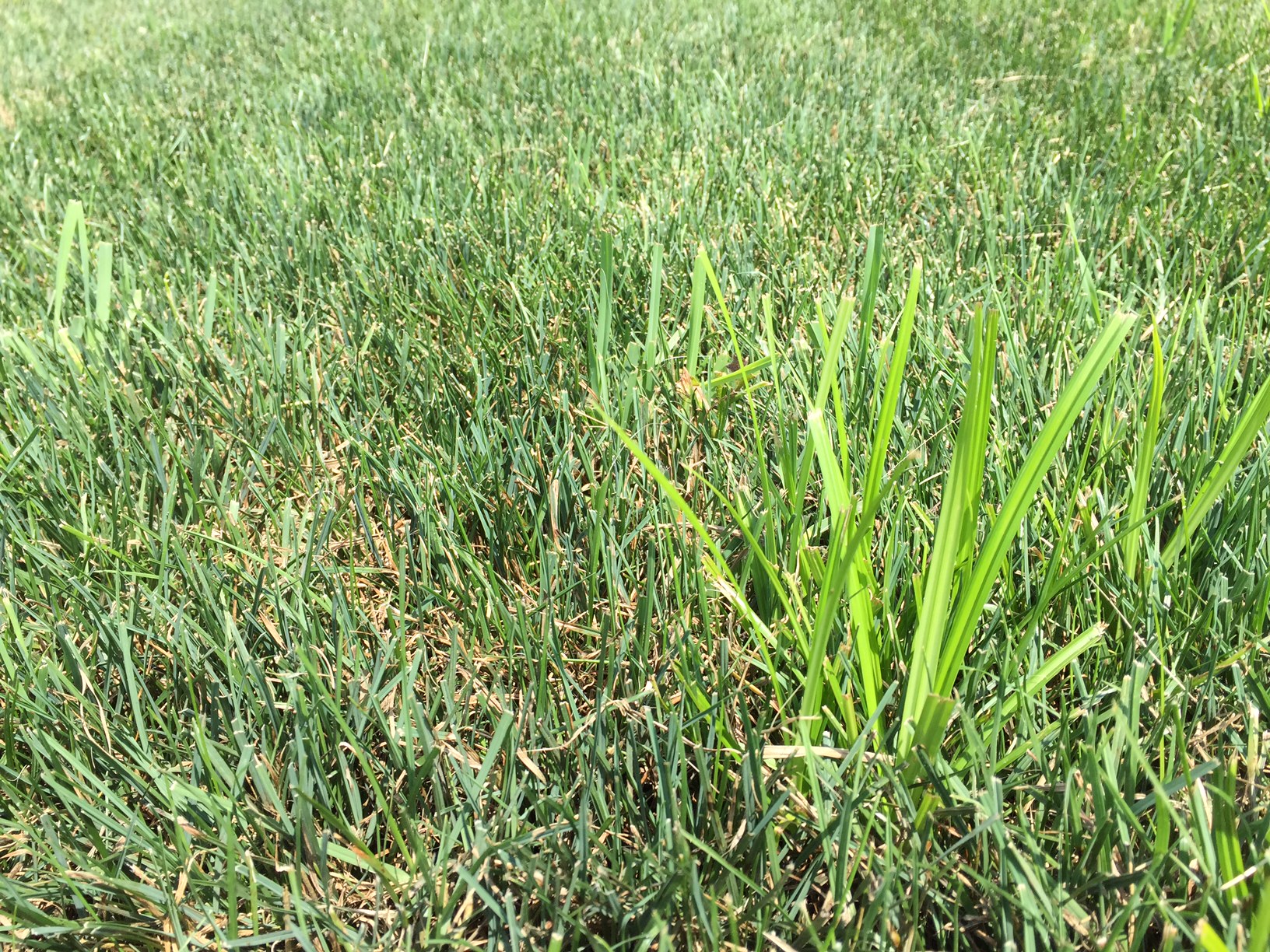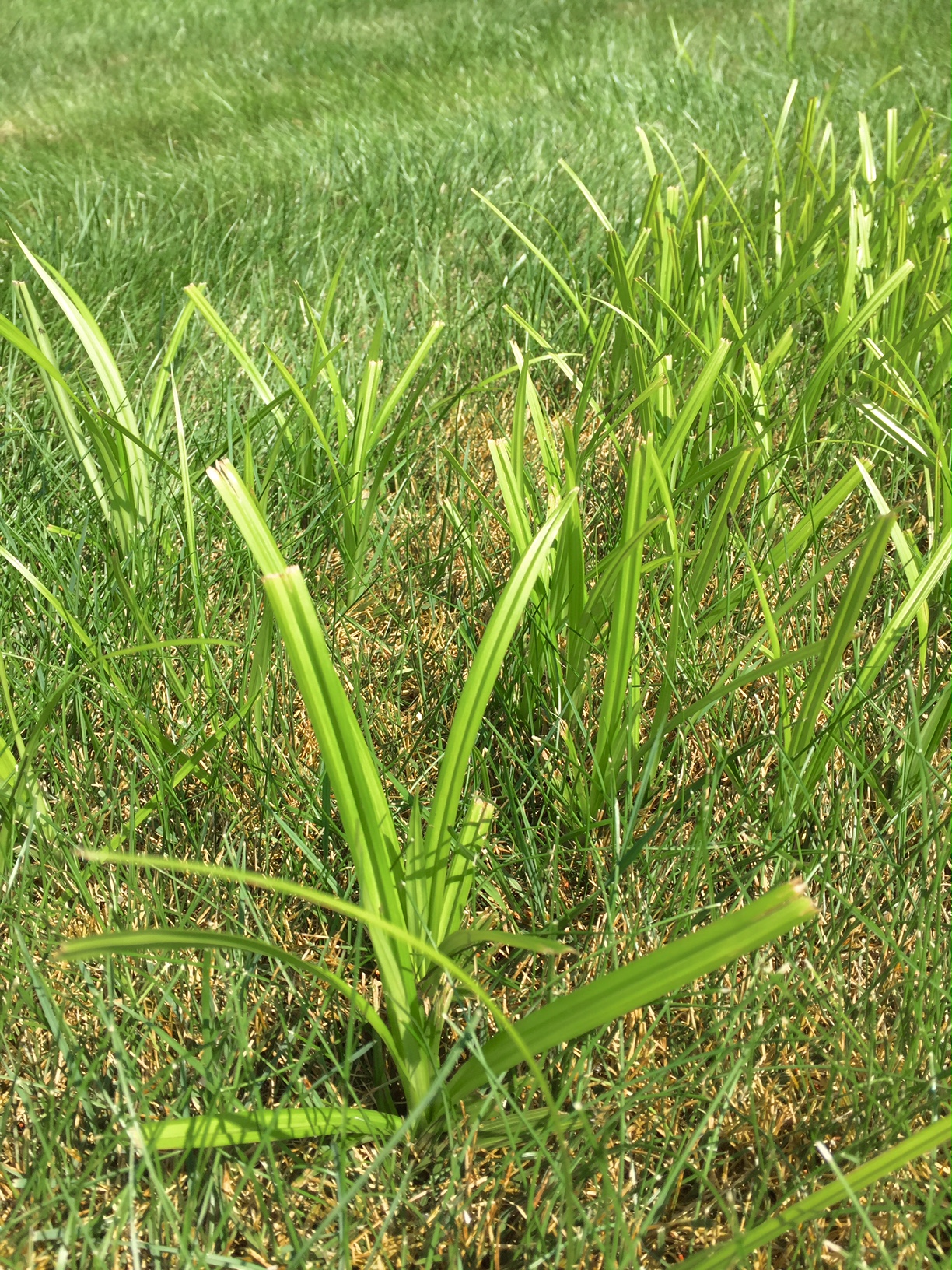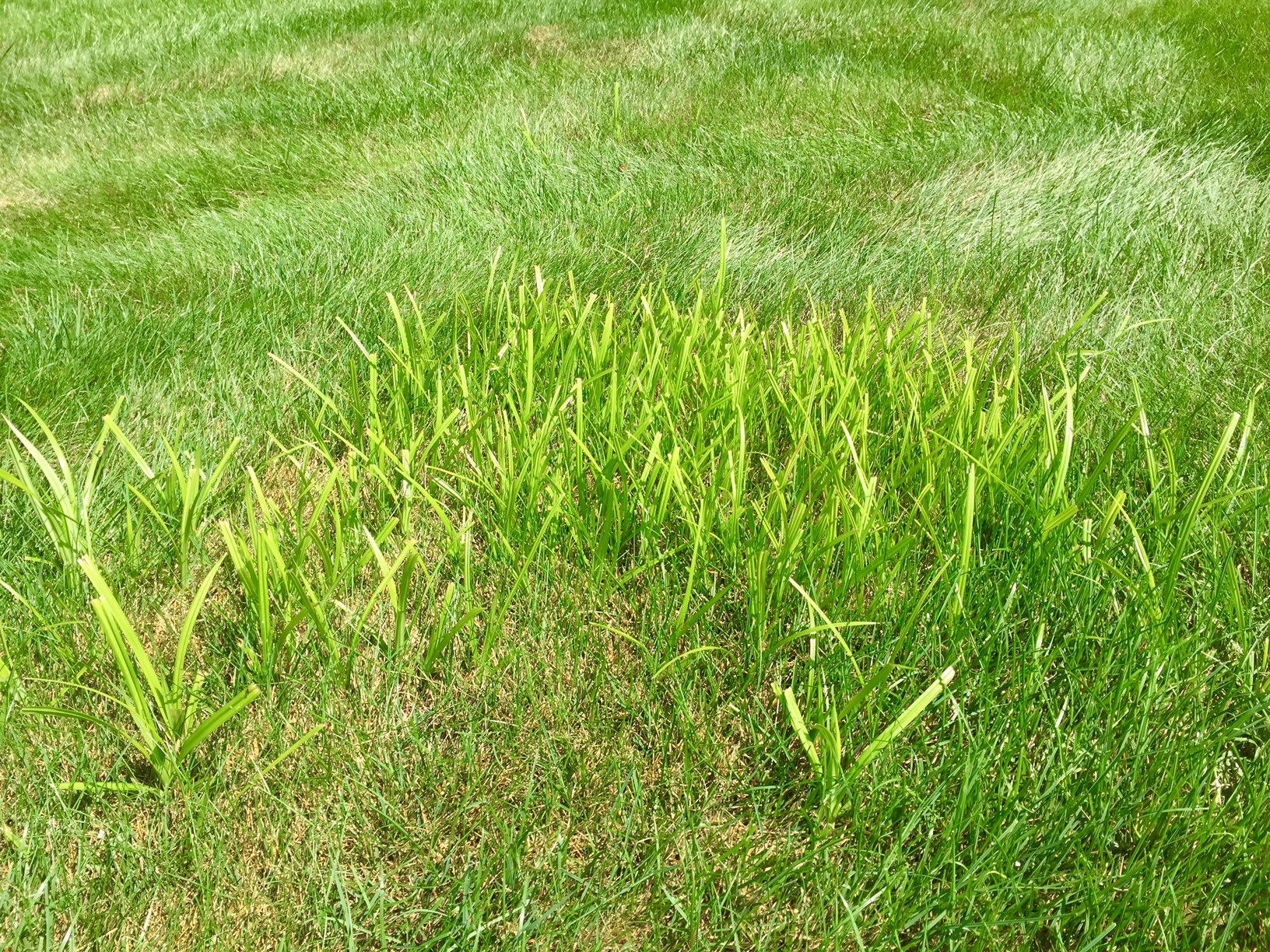 Mowing Tips:  Mow the lawn only when needed.  Do NOT mow during the hottest point of the day or with dull mower blades.  Mow at a height of at least 3 1/2 - 4 inches.  This helps the grass to retain moisture and shades the roots from the sun.  Disease organisms spread easily in fresh cut grass, and the newly cut blades offer an opening for infection.  Lawns are mowed approximately 30 times during the season.  What that means is, the grass plant is cut/injured at least 30 times, making it susceptible to disease each time.  Try to limit the amount of traffic on the stressed areas.  Change direction each time you mow.
Lawn Disease:   Disease has been a huge problem most of this growing season due to weather and mowing.  Red Thread, Dollar Spot, Brown Patch and Leaf Spot   These diseases are most easily seen right after mowing.  If these patches look to be spreading a fungicide application should be applied to stop it.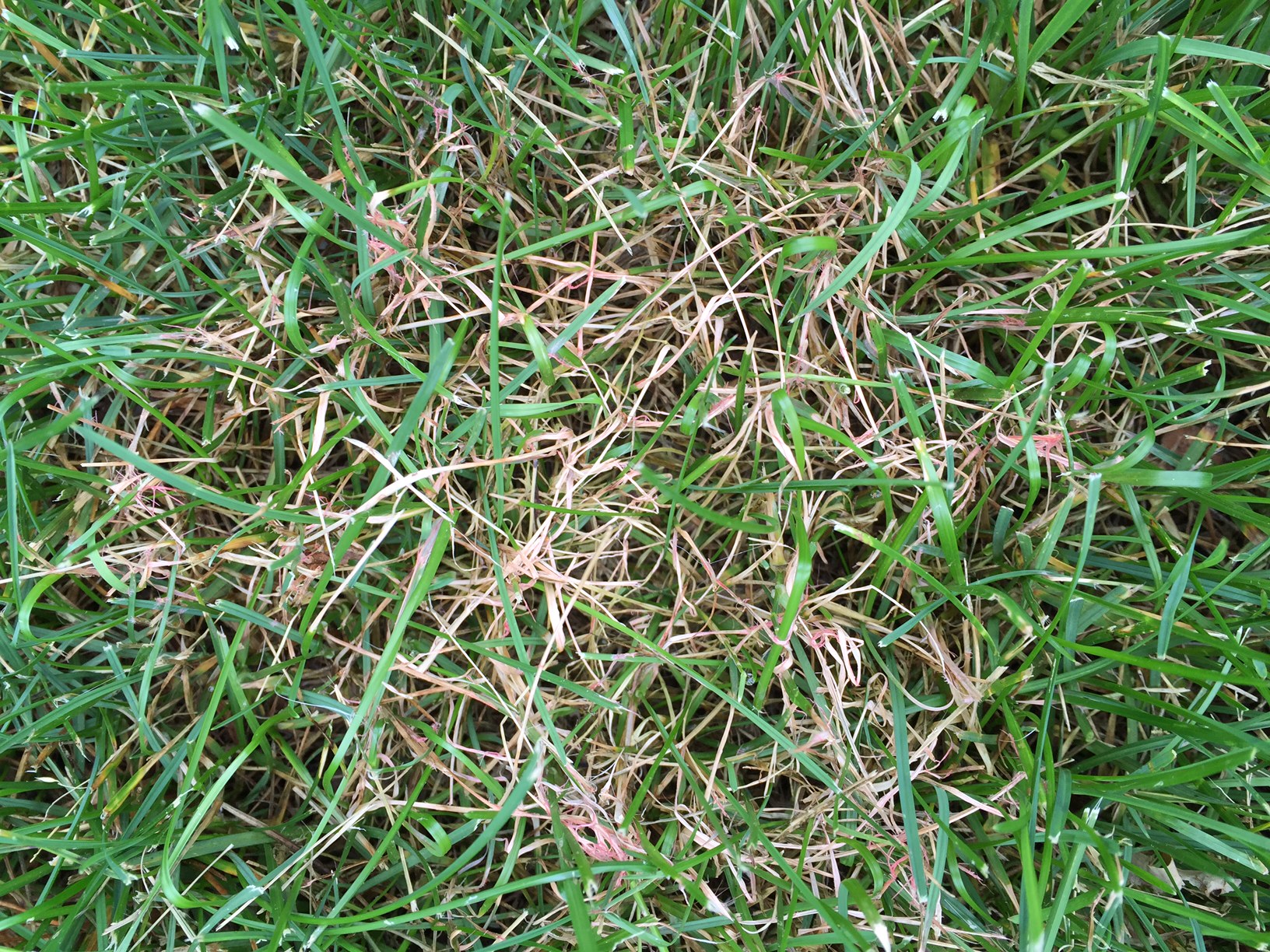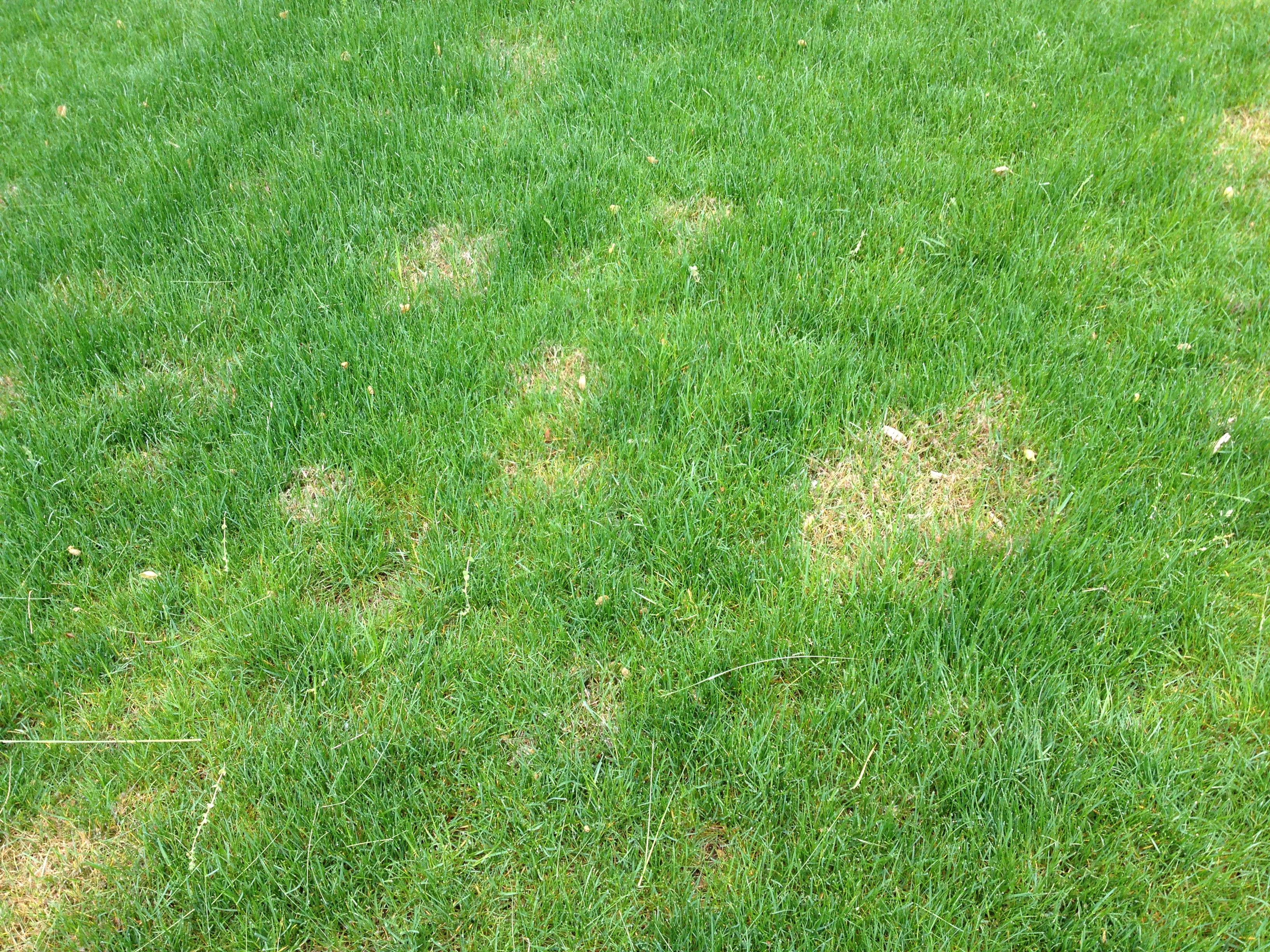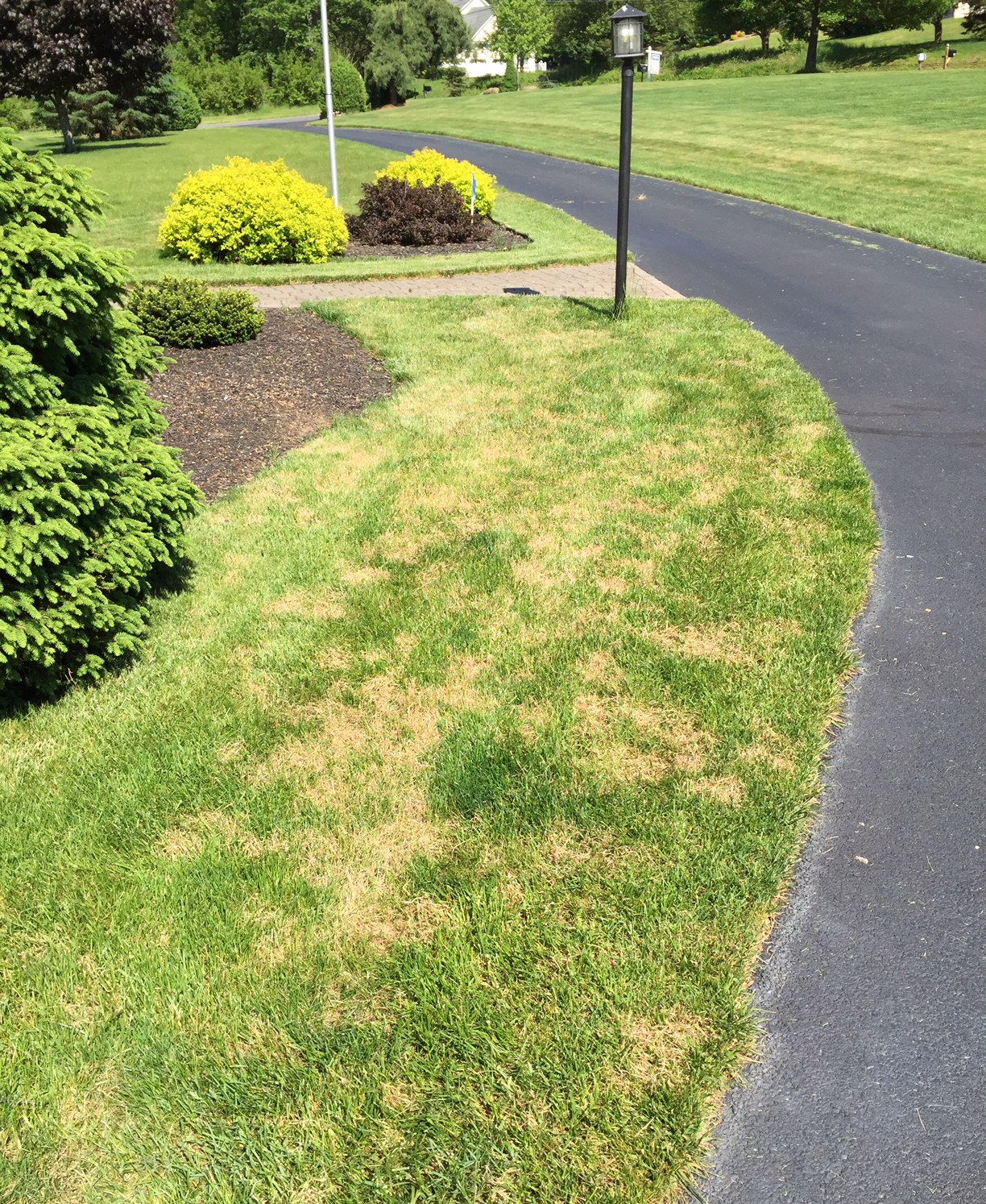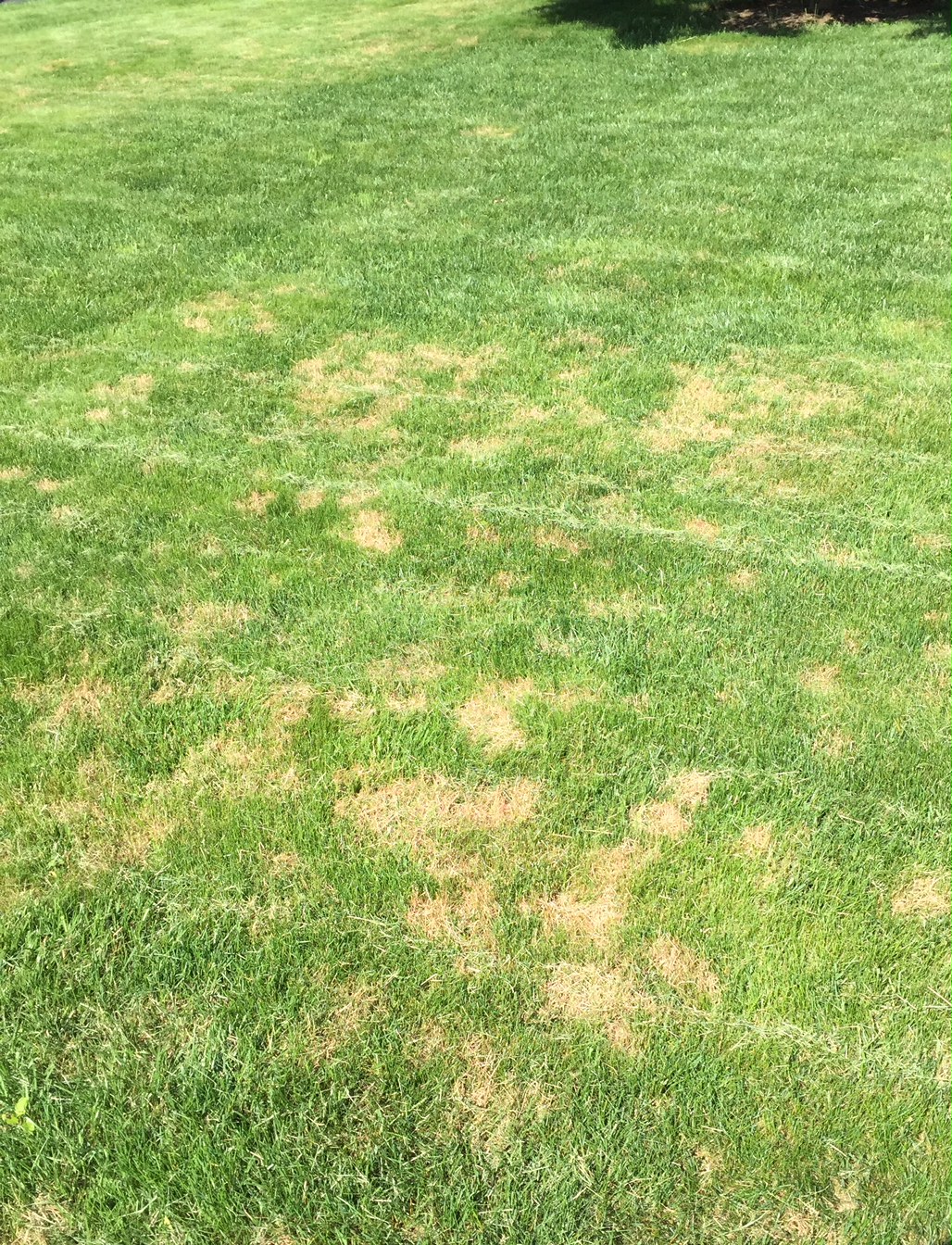 Applying a fungicide can stop turf diseases from spreading for up to 3 weeks.  Before and afters below.  Fungicide was sprayed and 18 days later the after photo was taken.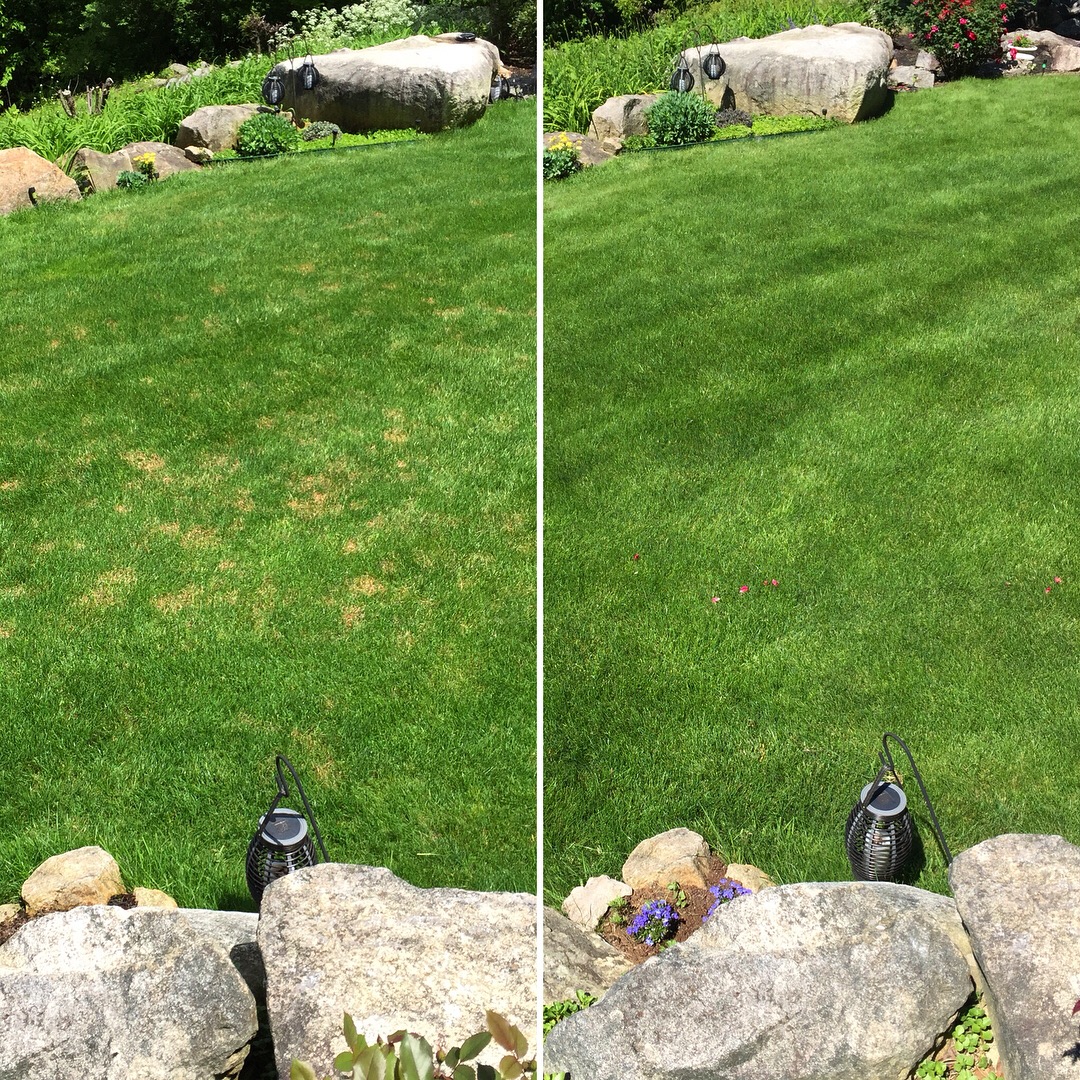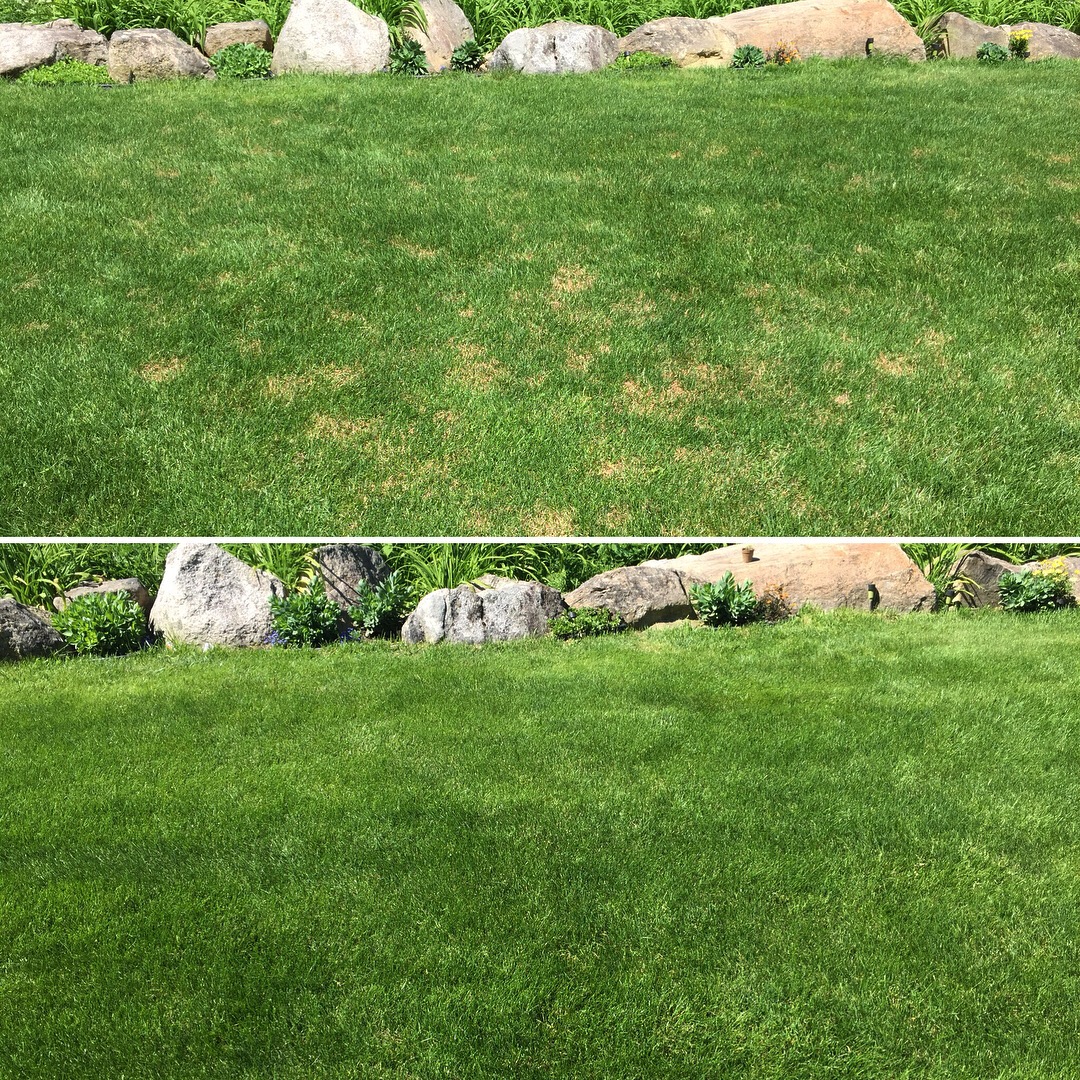 The window to perform aeration and overseeding is short and the schedule will fill up fast.  In addition, for proper seed germination, aeration with overseeding takes priority and is scheduled as follows:
Core aerations with overseeding will be scheduled: September 4 - October 6 (soil testing required for us to seed).  OUR SCHEDULE IS NOW FULL.
Core aerations only will be scheduled: October 8th through beginning of November, weather permitting.