Lawn Tech Scholarship Fund: We Have A Winner!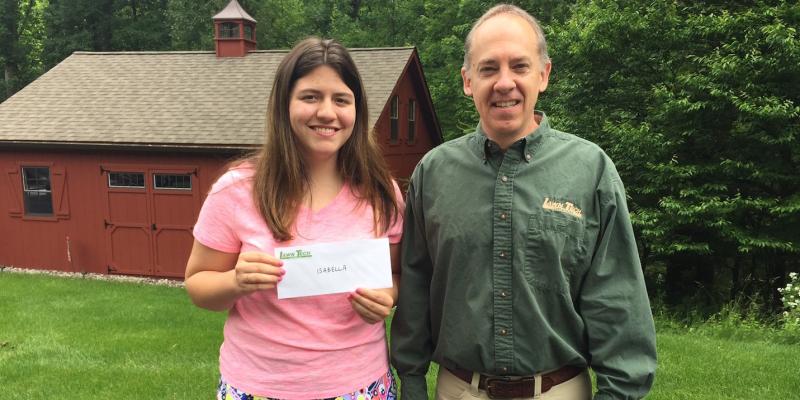 Lawn Tech is thrilled to announce we have selected the winner of the 2018 Lawn Tech Scholarship Fund - Isabella DeStefano! This is our second year awarding a scholarship to a student based on merit and passion for pursuing a degree in chemistry, biology, environmental science, or a related field.
Choosing Isabella as our winner was a no-brainer. Have you ever met someone who seems to do it all? This is Isabella! Isabella is a graduate of Buena Regional High School and had an impressive high school career. Here are just a few of her academic and athletic accomplishments:
Ranked 1st in her class
4.5873 GPA
Member of the National Honor Society
Historian of BRHS's National Honor Society
Vice President of BRHS Math League
Statistician of BRHS Math League
Historian of the BRHS Academic Team
BRHS Natural Helper
Buena Regional Teen Center S.T.A.R. Mentor
Co-Captain of Varsity Girls Tennis Team
4-time First Conference Team Selection and MVP
3-time All South Jersey Group 1 Team
BRHS's NJSIAA 2018 Scholar Athlete
And more!
Aside from academics and athletics, Isabella is an avid participant in community involvement. Not only does spend time volunteering at her church, Bethlehem Lutheran, but she also served as the Project Leader for Local and Global Service Initiatives. In this role, she has facilitated countless projects, but one stood out to us in particular. Along with her sister, Isabella created an initiative called "Project: Clean Water."
This project, inspired by her passion for safe and clean drinking water, facilitated the installation of a well in Africa. Thanks to Isabella, approximately 500 families were provided access to clean, safe water. Isabella states, "Our well helps break the cycle of hunger and poverty for the members of the village. In particular, it has improved the lives of the women and girls of the village. Now, instead of being responsible for hauling water for their families each day, they can focus on educational and entrepreneurial endeavors."
Isabella plans to combine her passion for safe drinking water with her love of science by working towards an undergraduate degree in Chemistry or Biochemistry, with a minor in Mathematics. She will be attending college at Rowan University this fall.
Whatever Isabella chooses to do in her future endeavors, Lawn Tech wishes her the best of luck! We are honored to assist her in the pursuit of her education. Thank you to everyone who applied and congratulations to Isabella!