Get Your Lawn Ready For July 4th!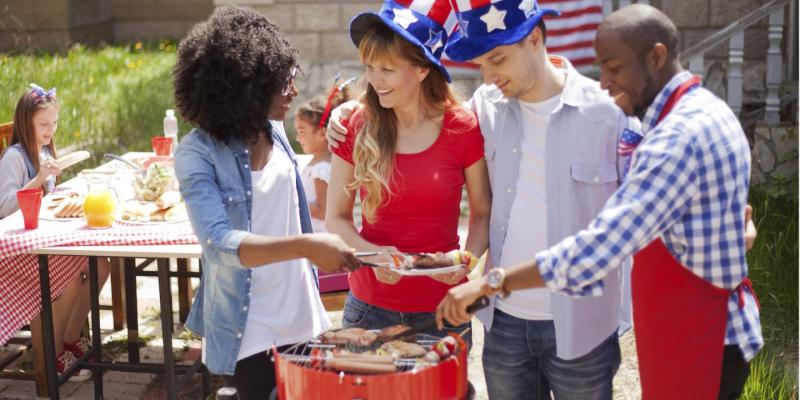 Independence Day is right around the corner and can be the peak season for backyard BBQ festivities. If you're thinking about hosting a party you're probably trying to get everything in order. With so many things to buy before the big celebration - from food to sparklers -  people often forget to decorate and care for their lawn. As professionals who create and maintain beautiful landscapes all throughout New Jersey, we want to provide tips on how to get your lawn ready for your celebration!
Hang a Flag
It wouldn't be a 4th of July party without some stars and stripes. Hang a flag in the front of your house so the guests see it right when they show up. Want to turn this colorful backdrop into a game? Create a wall of red, white and blue balloons to look like the American flag and play darts. You can even fill each balloon with a small treat!
Decorate the Tables
When the food's done cooking your guests will need somewhere to eat. Why not bring a couple tables outside and put patriotic tablecloths over them to add to the atmosphere? You can even create an easy, fun centerpiece using a vase with flags (instead of flowers) filled with red, white and blue gum balls to keep with the patriotic theme. 
Keep Mosquitoes Off the Guest List
There are natural ways to get rid of mosquitoes so your guests can enjoy your party without getting bit. Throw sage on top of a fire or warm grill - after the burgers are done - or plant marigolds, lavender, and even basil to drive away these pests. Also, be sure to remove any standing water from your yard to ensure these pesky pests don't crash your party.
Don't Forget About Your Lawn
Let's face it - everyone wants a beautiful, healthy lawn that they can be proud to show off to their neighbors. Nothing is worse than hosting guests for a backyard bash and realizing your grass is tired looking or dead. With our professional lawn care services in New Jersey, you can have a lawn you are proud of without having to lift a finger!
The Lawn of Your Dreams, Hassle-Free! 
After July 4th the summer flies by, so make the most of your free time while you still can. As lawn care professionals, we understand that maintaining a beautiful, healthy lawn takes time because it is our passion. If you would rather spend your nights and weekends enjoying time with loved ones instead of in your yard, Lawn Tech is happy to help!